Negative Image
By Donna Michaels
Available now at
The Wild Rose Press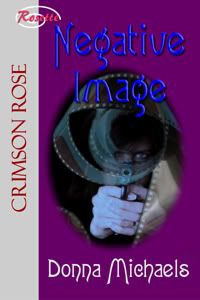 13 pages--Sensual
Blurb
Photographer Lisa Clarke thought working the Senator's Inaugural Ball would be just another job. But when she inadvertently photographs a serial killer with his next victim, her easy assignment turns into a life or death situation. When the killer targets Lisa, she's put into police protection and faces danger of another kind. Sexy Detective Dean Jennings.
Lisa and Dean give into their fiery attraction, but their interlude is cut short by the killer. With their wits as their only weapon, will they be able to outsmart a killer bent on revenge? Or will their passion-filled night cost them their lives?
Excerpt
"Okay. You can look now." Bringing them to a halt, he removed his hand from her eyes and she gasped.
Washed in a romantic glow, the cozy living room sported an assortment of candles and dinner for two. She turned to him. "How did you…when did you?"
Mischief sparkled in his green eyes. "When you were taking your shower."
"Oh, that explains it." Swaying into him, she slid her hands over the shadowed ridges of his chest and playfully pouted. "I was wondering why you didn't join me."
He growled and crushed her close. Mouth parted, she eagerly awaiting his searing kiss.
It never came.
His hungry expression turned to alarm. Stiffening, he released her and scanned the room.
Fear quickened her pulse. Throat dry, she touched his elbow. "Dean, what is it? What's wrong?"
"Something's…off. I need to get you out of here. Now!"
************************
Thanks for reading.
Donna Michaels